Morsy backs Syrian calls for al-Assad to face war crimes trial
January 7, 2013 -- Updated 2316 GMT (0716 HKT)
STORY HIGHLIGHTS
Syrian people "have the will to win," Morsy tells CNN in an exclusive interview
"They will decide what they want to do to those who committed crimes against them," he says
The Egyptian president tells Wolf Blitzer he's pushing for Palestinian unity
Cairo (CNN) -- Egyptian President Mohamed Morsy supports calls by people in Syria for President Bashar al-Assad to be tried for war crimes, he told CNN on Sunday in an exclusive interview.
"The Syrian people through their revolution and through the movement will -- when the bloodshed stops -- move to a new stage where they will have an independent parliament and a government of their choosing," Morsy, Egypt's first freely elected leader, told CNN's Wolf Blitzer in Cairo. "And then they will decide what they want to do to those who committed crimes against them. It is the Syrian people who decide."
Al-Assad's effort to crush anti-government protests in 2011 has turned into a bloody civil war in which the United Nations estimates that more than 60,000 people have been killed. In his first televised address since June, al-Assad said Sunday that Syria was under "an external attack" by "extremists, who only know the language of killing and criminality."
Asked about Syria, Morsy repeated his previous calls for al-Assad to leave power.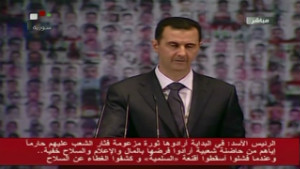 Syrian President Assad makes rare speech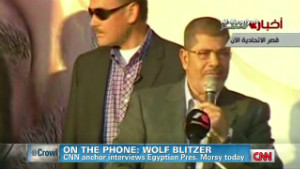 Blitzer interviews Egyptian Pres. Morsy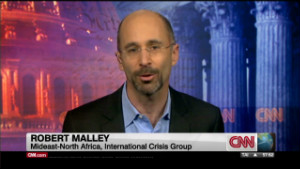 Egypt: Testing the limits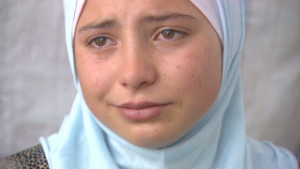 Syria's child victims
Egyptian revolutionaries toppled longtime strongman Hosni Mubarak in early 2011, and Morsy has said Egypt will work for Arab and international support to replace al-Assad. Asked whether he thought the Syrian leader should be tried before the International Criminal Court for war crimes, Morsy said, "It is not I who want this, but the Syrian people who want this."
"This phase is the phase of the people," Morsy said. "Similar to what the Egyptian people wanted, the Syrian people want it. And we support the Syrian people, and they're going to win, and they have the will to win."
Exclusive photos: Blitzer in Cairo for Morsy interview
Morsy brokered the November cease-fire that ended an eight-day conflict between Israel and the Palestinian Islamist faction Hamas, which controls Gaza. Now, he has invited the heads of the two major Palestinian factions to meet in Cairo in hopes of building unity, a task he acknowledged won't be easy.
Morsy said he invited Palestinian Authority President Mahmoud Abbas to meet with Khaled Meshaal, the political leader of Hamas, who lives in Cairo. Hamas controls Gaza, while Abbas's party, Fatah, controls the West Bank. The two factions have clashed violently over the years.
The United States, Israel and the European Union list Hamas as a terrorist organization. The group has carried out numerous attacks, killing scores of civilians.
In the interview Sunday with CNN, Morsy sought to assure viewers around the world, as well as people in his own country, that he is committed to promoting democracy and protecting minorities, including the country's Coptic Christians, from discrimination.
Having spent time in the United States -- he received a doctorate at the University of Southern California -- Morsy knows U.S. democracy and said he is committed to allowing free speech.

Part of complete coverage on
Syrian crisis

There's more to the Syrian civil war than rebels versus the regime. Syria's neighbors in the Middle East also have a stake in the conflict.
May 9, 2013 -- Updated 2113 GMT (0513 HKT)

Israel is taking steps to defend itself against threatened retaliation from Syria after claims it launched airstrikes on Damascus.
May 14, 2013 -- Updated 1636 GMT (0036 HKT)

Domestic political will is a necessary for intervention and polls show Americans are reluctant to support military interventions in Syria.
May 6, 2013 -- Updated 1738 GMT (0138 HKT)

Syria's claim that Israel launched airstrikes presents a dangerous escalation of Israel's involvement in Syria's war, writes Fawaz Gerges.
May 7, 2013 -- Updated 0941 GMT (1741 HKT)

The U.N. says a Syrian rebel group may have used a nerve agent -- it would not be the first time the al-Qaeda-affiliated group used chemical weapons.
May 1, 2013 -- Updated 1800 GMT (0200 HKT)

Having willfully avoided direct military involvement in Syria for the past two years, Obama may not be so lucky anymore, writes Aaron David Miller.
May 10, 2013 -- Updated 0944 GMT (1744 HKT)

What began as a protest movement became an uprising that metastasized into a war, a vicious whirlpool dragging a whole region toward it.

A devout man prays. A fighter weeps over a slain comrade. These are a few faces of the Syrian conflict captured by photographer LeeHarper.
April 25, 2013 -- Updated 0859 GMT (1659 HKT)

A group of pro-Syrian regime hackers that has targeted major news organizations but its cyber attacks can have real-life impact.
March 7, 2013 -- Updated 2324 GMT (0724 HKT)

The role of women in Syrian uprising is little reported, but many have played a key part as activists and medics since the bloodshed began.

Are you in Syria? Share your stories, videos and photos with the world on CNN iReport, but please stay safe.
Today's five most popular stories